When I say Horizon...I am not talking about this...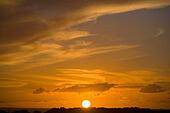 Although a beautiful site!
I am actually referring more to images like this...
and this...
Yes, I am inspired by all the fabulous pictures of painted horizontal stripes I've been seeing lately. I have decided to add this fresh design element to the hallway in my own home.
It started with this picture by Michelle, over at the blog
4men1lady
, of her awesome entryway...
So I immediately went to my Sherwin Williams Color box and selected two paint colors for my horizontal hallway stripes.
Shoji White SW7042
Universal Khaki SW6150
After living with the samples taped to the wall for a week...I am ready to begin!
Pictures and progress report to follow...
Have you painted stripes on your walls...horizontal or vertical?
I would love to hear from you and learn any tips that you may have.