Design Dilemma...updating a room full of "Old World" style.
Recently, a friend and I were out shopping for clients (and ourselves) at Home Goods and addressed this design dilemma.
While we were browsing through the Art/Mirrors aisles looking at the rows and stacks of options (my apologies - again - to the lady that I almost injured when the entire stack of large paintings fell forward and almost knocked her over...so embarrassing!)
A nearby fellow shopper overheard us (hard to miss due to the above commotion!) and asked for advice on how to update her home. She told us her house is currently decorated entirely in "Old World" style with mostly earth tones and neutral colors and she is desperately trying to update and add some life without redecorating the whole room, and spending a fortune.
Our advice..."Add some Contemporary Art to the walls".
This will instantly update the space by adding new colors and an interesting new element to all of the old world furnishings.
I envisioned her room may look something like this
Two nice looking rooms with some beautiful furnishings...albeit very neutral, not alot of color or interesting art.
Just look at the difference adding a piece of contemporary art to an otherwise traditionally furnished space can make...
In this room I would suggest pulling out the blue and green tones in the painting and add pillows and a throw in those colors. You can also add some colored glass vases and pottery to the bookshelves to infuse some more color into the room.
Here is another excellent use of a bright contemporary painting hanging above the stone fireplace in this living room. Notice the addition of yellow accents taking its cue from the colors in the artwork.







source

In the room below...the traditional style couch and other furniture are upholstered in neutral fabric. Painting the walls a rich dark color, adding the contemporary art along with pillows in bright colors and prints instantly udates this room.


source
There are many sources avaialbe to find great looking and affordable contemporary art. As mentioned above, check out your local stores like Home Goods and T.J. Maxx. As always, this is a "hit or miss" option...you never know what you may find so its best to check in often when looking for just the right piece.
Ballard Designs has some of my favorite contemporary art prints...and Overstock.com and Art.com offer so many, its hard to decide!
source
source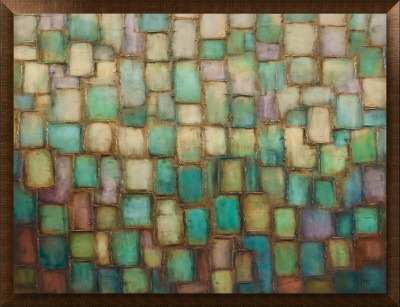 So shop around and have fun mixing it up...find a piece with colors that you like and add it to your traditional room.
If you love it...thats whats most important!